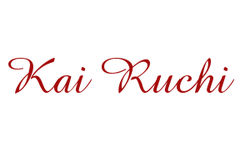 FREE DELIVERY
on order over Rs. 299/-
About Us
Kai Ruchi' is a South-Indian phrase referring to the magic or taste created by one's hands in cooking equivalent to 'Haath ka Jaadu' in Hindi.
Who are we?
We are a small team of people who firmly believe what you eat is what you become. And that that in our long lost traditional ways of eating is where the key to happiness and health is hidden. We are on a journey to discover that and bring it within reach to everyone.
Our Mission
Our intention is to offer the culinary magic and traditional Indian taste to the wider world which would otherwise be limited to the neighbourhood. We are on a mission to make simple, traditional, healthy south Indian delicacies easily accessible to all across the globe.
Our Products
Our products are prepared from fresh, natural, fine quality ingredients with no preservatives from authentic, traditional secret recipes passed on through generations.
All our products are solely shipped directly to our customer through our online store www.kairuchi.in only, which ensures our customers receive only the freshest of products, unlike other products sold in super-markets. It would also enable you to give us any feedback regarding taste or quality.
Our Journey
It's been 3 years since we launched kairuchi.in . Over the last 3 years we have shipped to all states of India, including metros, tier 2 and tier 3 cities and hope to increase our reach.